Financial Website Directory Ireland
Website Preview . .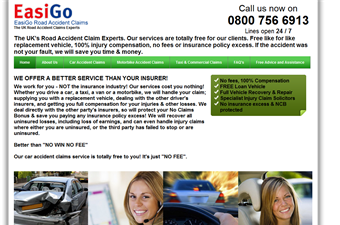 Easigo is major car accident claim company; offering a totally free service for: car accident claims, car insurance claims, any road accident claims, all non fault claims, in the UK & EEC. We handle all traffic claims, RTA claims, car accident claims & any vehicle claims directly through the other driver's insurers
Listing Statistics . .
1211

Listing ID :

10 August 2012

Date Added :

N/A

Site Page Rank :

0

Traffic Out :

960

Page Views :